Berlin, 2013-11-03
Italian Leader takes the Pirates to Europe
Suddenly the Pirate Movement stops being ignored. Suddenly the German Pirates are invited to the World Forum for Democracy held by the Council of Europe in Strassbourg — to present Liquid Democracy to the world's political leadership.
What happened? Why do we suddenly deserve all that attention? Who dares to invite us in spite of the German and Swedish governments, who both have a massive interest in keeping us out of the game?
And why is it all focused on Liquid Democracy, while in Germany hardly anyone is talking about it? Detractors have been so successful at mining its relevance.
Well, there are some key names in that list of presenters linked to the Italian Democratic Party, that are most probably behind this feat. Why should the second most influential man in Italy's currently ruling political party care about Liquid Democracy?
Well, let me explain. You must know, that the Liquid Feedback technology (we call it #LQFB) is in use by some five or more political parties and has thus achieved a status of political consensus in Italy. The idea that this sort of participatory democracy technology must find application. Consensus by everyone except the Berlusconi party, of course.
Italy is the only country on Earth to employ LQFB directly in parliamentary commissions, although TuParlamento is still gathering participants, so it hasn't happened yet.
In no other country has the German Pirate Party been mentioned continuously, for over a year, as a positive example to learn from. How did all of that happen?
Let's recap. In September 2011 the Pirates enter the regional Berlin parliament. Italy is among the countries reporting about this the most, as Italian media always has a special interest for things happening in Europe's leading economy.
Two months later Berlusconi resigns. Elections are expected. That's when I started looking out for the Italian Pirate Party. I discovered some two dozen Internet activists forming the official PP-IT and a couple of rogue groups trying to steal the name. And then there was this promising popular 5 Star Movement (we call it #M5S as in Movimento Cinque Stelle) that had already absorbed half of the political programme of the Pirates, including the bit on democratic participation, and was frequently citing Pirate successes as something to look up to.
Being a Pirate, I distinguished the honest and dishonest "Pirate" projects by closely examining their statutes. The rogue ones immediately stuck out with multilayered representative structure and a group of founding members that cannot be demoted. But the oddest of all was the M5S. Why would it not have any democratic statutes at all? There was just this copyright declaration that stated that the leader himself, Beppe Grillo, could deny anyone the use of the logo of the Movimento. I had to conclude, that against all expectations, there was no inner democracy in the M5S at all — at least not with any legal foundation. It's all based on trusting the leader.
About that time a video maker friend came to visit and heard my account of how we achieved that incredible, almost 9% at the Berlin elections, and he just said.. we have to make a video telling Italians the real Pirate story. His initiative changed the way things went and my life with it. Even if you don't understand Italian, you get the idea:
The clip concludes making the strong statement, backed by a survey, that LQFB was the number one reason for the success of the Berlin campaign. Not just for developing our programme, but also for motivating us and making us all capable of representing our political positions in front of any microphone or camera. We called this effect the Pirate Mandate. Especially the bit with the LQFB vote results being read out in parliament struck most Italian viewers. It looks like revolution taking place — and in fact that's what it is. It is irresponsible to deny it.
The clip went viral in Italy, feeding the flame of revolt inside the M5S that was fighting for inner democracy. And it was picked up by a clever journalist at RAInews24, the leading news television channel, which built a report around it:
As in Germany further electoral successes trickled in, I received phone calls from Italian media to comment on them. The number one question was, whether M5S could be considered a legitimate Italian equivalent of the Pirates.
I wasn't prepared for that. I was on air on Italian national television and I stuttered what I had myself found out examining the statutes. I stated that the M5S was an authoritarian structure, that it needs to introduce inner democracy to become akin to the Pirate movement. That was the most frightening moment in my political adventure, but I had to stick to my principles and the truth — although I love Mr Beppe Grillo as a comedian. And what I spoke wasn't my opinion. It was a fact.
That ignited a firestorm. Italian media loved having discovered a Berlin Pirate that actually spoke fluent Italian, and they loved even more, that this guy appeared to be critical of the M5S. Newspapers, radio and television — even Vanity Fair had me. I tried to redirect public interest to representatives of the Italian Pirates, but the journalists kept asking for the guy from Berlin. It was getting so much, I asked the board of the German PP if what I was doing was okay. They enthusiastically assigned me the title of country commissioner for Italy. So I took the job even more serious.
Next I found myself in a talk show called Infedele (video). The talk show host, that made an impression of being a supporter of the Democratic Party (PD), was merely interested in the criticism I had for the M5S. I evaded his suggestive questioning and started talking of how Liquid Democracy made the difference in our electoral success, how our representatives in parliament do not have to decide by themselves but continuously get feedback from the party base, and that one should look at the Italian Pirate Party, which had embraced new statutes that replaced the board with a leadership model by permanent assembly, using the LQFB software.
To my surprise they invited me back, but this time I successfully delegated to an Italian Pirate. After all it is our policy to reference the local Pirate Parties whenever foreign media come interviewing us — it usually surprises them, as they haven't understood that we are actually one big worldwide movement.
Why didn't I talk of surveillance or copyright? Well, simply because in that moment of time, the Italian audience wouldn't have cared at all — the only thing capable of shaking up Italian politics is the threat of improved democracy, something that could challenge the grip of corruption — and the idea of being able to be leaderless, still sets the PP-IT apart.
The Italian Pirates then got invited to present LQFB in various settings, including the Partito Democratico, which is now taking it to Europe. So we traveled the land and gave LQFB lectures for free, everywhere we went, even at the Public Administration Forum, convinced that it can only improve democracy, wherever it goes, and that we would still be able to criticize incorrect deployments of LQFB as happened with "FARE per fermare il declino" and the "Servizio Pubblico" television show.
The event in Ferrara, was particularly significant. It was hosted by a group of people expelled from the M5S back in 2009 for asking for inner democracy. They too formed a political party centered around LQFB (without https encryption, oh no!).
But with the presence of professor Fiorella De Cindio at that event, developments took a new turn. She deployed LQFB in the regional campaign in Lombardy and now heads the Tuparlamento initiative which provides several parliamentaries in Chamber and Senate — even from rival political parties — with feedback from the constituency (precisely Partito Democratico (PD), Sinistra Ecologia Libertà (SEL) and Scelta Civica — the neoliberal party of former premier Monti).
Other consequences were the decision of the regional M5S group in Sicily to develop their programme in LQFB. It won them a solid percentage in the regional parliament. That was possible because regional groups in the M5S are usually allowed to take decisions for themselves, so they can experiment with the sort of internal democracy that the national organization doesn't have.
I expected, with all that pressure, something would soon change with Mr Grillo, to fix the statutes of his political project — I thought he was fundamentally a democrat, just scared to let his children go free — but he didn't. For the 2013 elections he registered a political party with only three formal members: himself, his nephew and his tax accountant. All the activists are just his fans. It sounds like a very Italian family show. I was starting to get the feeling he was indeed not on our side.
Some days ago he finally unleashed the official M5S participation tool. According to the description, the original proponent of a proposal stays in control during the entire phase of debate, then the text becomes an official law proposal. There isn't even a mention of any vote taking place. I can only hope the press got it wrong. But even in this case the M5S leadership claims the tool is "inspired" by Liquid Feedback. Alright.
[Update on Rousseau, here]
In the meantime the regional parliamentary M5S group in Latium has been preparing a massive citizen participation project based on LQFB, again risking expulsion from the movement by its owner, as has already happened with several members of the national parliament.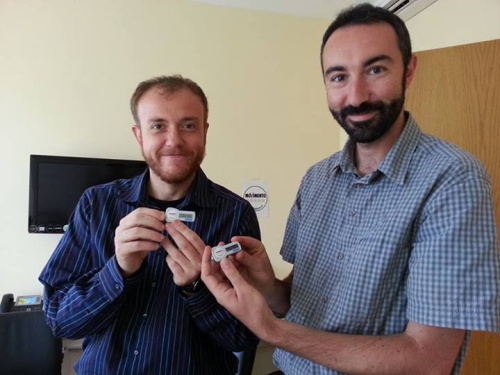 Parliamentaries of the M5S in Latium show off their One-Time Password devices intended to increase the security of the LQFB voting procedure.
And now we experience how the challenger to the leadership throne in the Partito Democratico, the man that just barely lost the leadership primaries against Bersani for the 2013 elections, the man whose only formal title is — almost humble compared to his political weight — of mayor of Florence, is taking Liquid Democracy to Europe and inviting the German Pirate Party to present it — right there in the face of Frau Merkel.
[Update: Soon after, Matteo Renzi became prime minister of Italy]
We are given the chance to explain our new approach to parliamentary participation. There will be ears of politicians that are not not so stuffed with disinterest and complacency. Brains that haven't been whitewashed with disinformation propaganda of rival political parties. Folks that are genuinely interested and could make a difference in their own countries.
Liquid democracy is not the perfect antidote to representative democracy, but it's better than leaving things as they are. We need a worldwide upgrade of democracy before we can seriously expect that politics will act reasonably and responsibly. We will not have a real chance to stop the wheels of politics if we don't change how they turn. And currently they are turning all against us — even in the face of lucky whistleblower revelations.
The representative system has a built-in tendency to egotism and corruption. We have (digital) civil liberties, welfare and a world economy to fix — unconditional basic income may be the key to a really sustainable economy that saves the planet from humanity's growth — but first we need a new functional governance.
That includes ourselves. We, the Pirates, cannot expect to be any better than any well-intended young political party. By the time we are in power we will suffer from the same effects of corruption as anybody else. Only if we manage to improve the rules of the game, to use technology to fix democracy, we have a role twenty years from now. This is what we have started doing in Berlin. This is the flame that we ignited in Italy. This is what the session in Strassbourg's LAB 1 is about. This is important. We must deliver.
[Updates: DiEM25, apparent failures of LQFB and more on my.pages.de]
Last Change: 2019-03-22