2009-04-20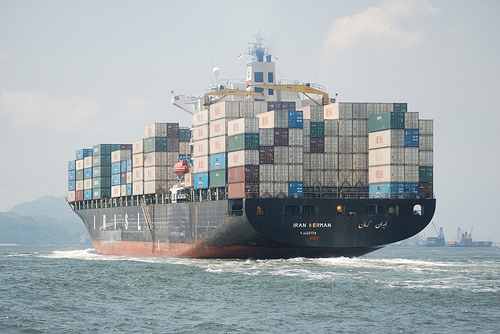 How To Easily Do Away With Globalization
According to the Guardian, the «Health risks of shipping pollution have been 'underestimated'»
| | | |
| --- | --- | --- |
| " | Confidential data from maritime industry insiders [..] shows that just 15 of the world's biggest ships may now emit as much pollution as all the world's 760 million cars. Low-grade ship bunker fuel has up to 2,000 times the sulphur content of diesel fuel used in [..] automobiles. [..] There are 90,000 ocean-going cargo ships. | " |
The article goes on to describe how rich countries intend to establish low emission shipping zones, as if it were any better, if these ships damage the environment elsewhere.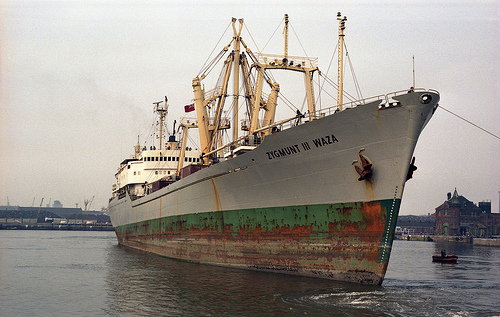 Simple maths shows, global shipping accounts for 6,000 times the pollution of cars. Considering the speed at which the global ecosystem is going downhill, we simply cannot afford these beasts cruising the oceans, just to have China's cheapest apples, toys and garlic on our markets. As if we couldn't grow our own garlic.
We cannot afford globalization. It doesn't work neither for the financial system, nor for the health of the planet. Bringing pollution and ecology back into the equation will make global trade again as expensive as it, considering all side effects, actually is.
No need for protectionism. Global transportation of apples and garlic just doesn't make sense. Reduce global trade to those goods that are really worth it, and we solve both the financial as the ecological world crisis, or at least we postpone them by decades.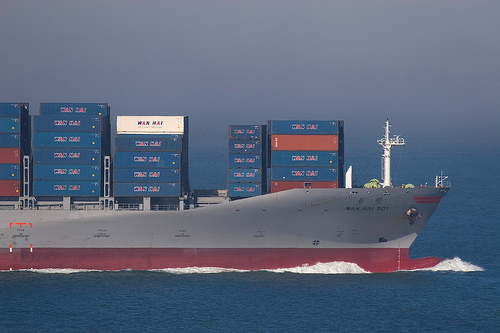 Each continent needs to run its own production of basic goods, and only exchange the little extras. Handling the differences in value of work labor and goods within the countries of each continent is enough of a challenge.
See also: Containers went overboard during storm.
Update 2016: Seven years later — so very overdue! — somebody finally made an enlightning documentary on the subject. Available in German language as Seeblind — Der wahre Preis der Frachtschifffahrt and in other languages from its original website.
The conclusion is still: Yes, the nightmare of globalization could be stopped with a simple worldwide agreement to ban the consumption of heavy fuel oil — the number of refineries producing HFO is finite and controls can be implemented in the same way that controls exist on nuclear facilities. The Italian Pirate Party has this in its programme ever since 2013.
Also, a worldwide agreement on taxing globalization by, for example, taxing each container a fixed sum on arrival, should also be helpful. It is a blatant lie that globalization is an inevitable law of nature. Anyone who says that should be fired on the spot.